Drivers in this city pay $3,700 more for auto insurance than the national average, data shows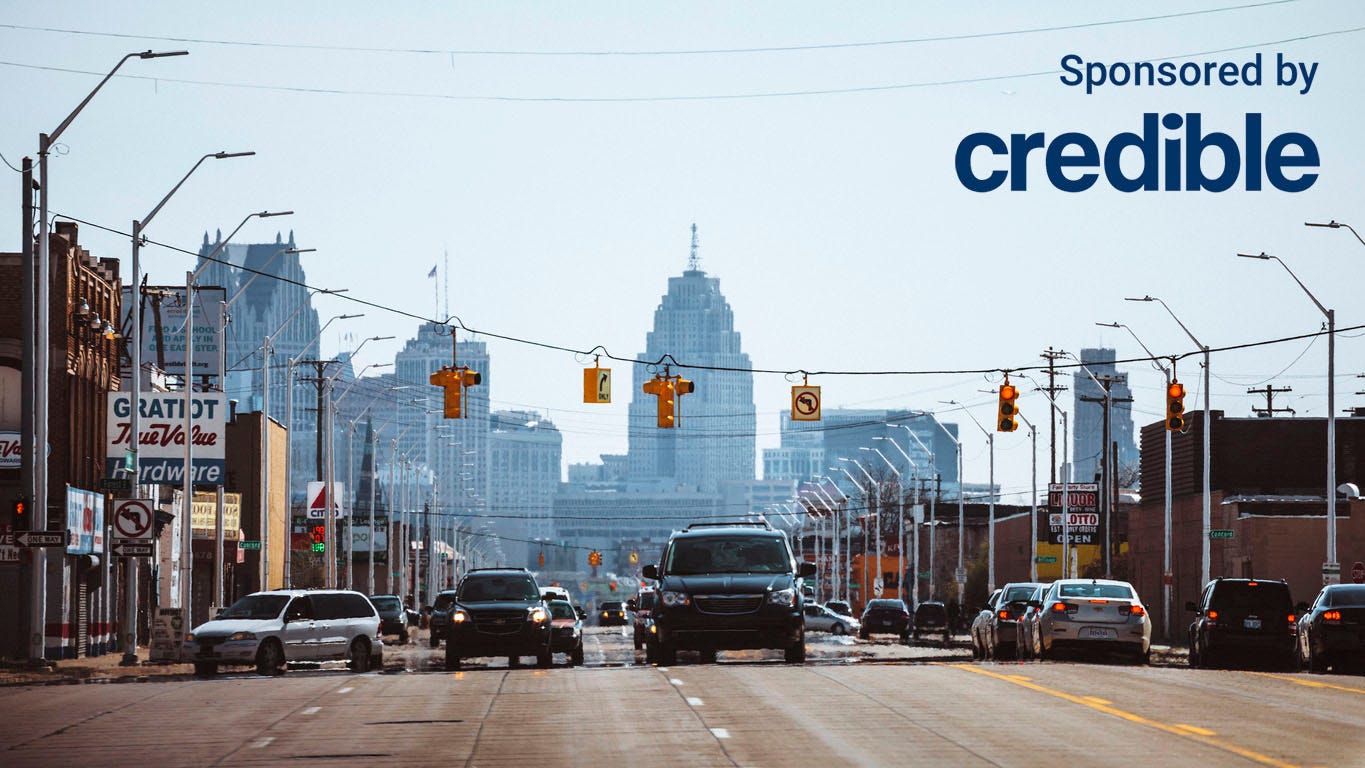 The price you pay for auto insurance depends on a number of considerations, like the value of your car, the amount of your coverage, and even your credit score. But one of the biggest factors affecting your auto insurance premium isn't your driving record, it's where you live.
Auto insurance rates vary widely by city or state, according to data from Policygenius. While the average national premium is $1,652 per year, drivers pay significantly more in some locations.
Policyholders in Detroit pay the highest annual auto insurance rates, at $5,357. That's $3,705 more than the national average. Michigan drivers have historically had some of the highest car insurance premiums of any state in the country.
Perhaps unsurprisingly, the cost of auto insurance is also very high in New York City, a place known for bumper-to-bumper traffic and a high cost of living. New Yorkers pay just over $4,800 a year for car insurance.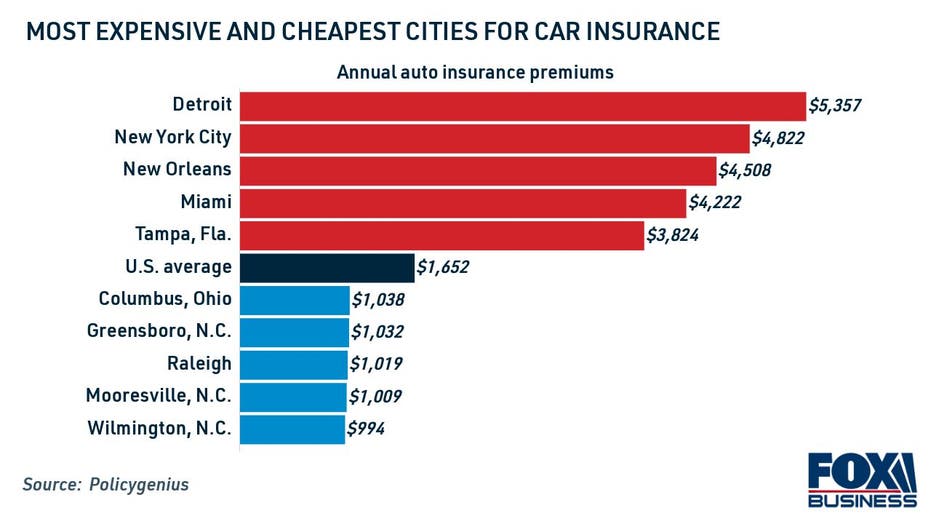 This is not bad news for all drivers. Auto insurance premiums are well below the national average in Wilmington, North Carolina at $994. In fact, four of the top five cities with the cheapest auto insurance are located in North Carolina, which also happens to be the state with the lowest annual premiums.
Keep reading to learn more about how location impacts car insurance rates, as well as what you can do to save money on car insurance. One way is to shop around with several car insurance companies to find the lowest possible rate for your situation. You can visit Credible to compare insurance quotes for free without affecting your credit score.
RETIREES BOUND BY HIGHER HOME INSURANCE RATES IN FLORIDA: HERE'S HOW TO CUT COSTS
Average car insurance rates vary widely from place to place
Data from Policygenius shows that the cost of auto insurance is highly dependent on the city and state you live in. Of the 25 most expensive cities for car insurance, half of them are in Florida, three in Louisiana and two in Michigan.
Drivers in these states typically pay significantly more for their annual car insurance premiums. Florida is the most expensive state for an auto insurance policy, with average annual rates of $2,914. Louisiana comes in second with an annual premium of $2,906. And Michigan is third – drivers here pay $2,377 a year for car insurance.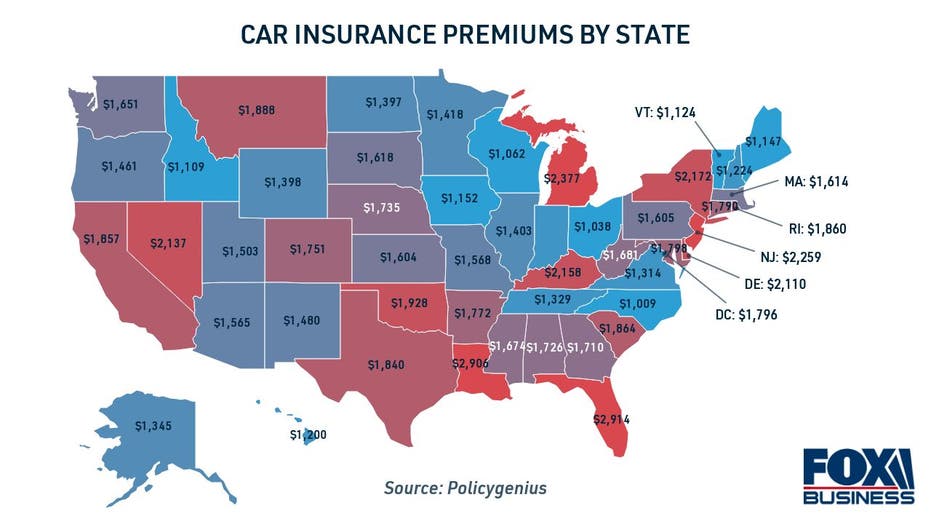 CAR INSURANCE RATES 'DO NOT GO UPWARDS' DESPITE 4% ANNUAL INFLATION: REPORT
This is consistent with a recent analysis by the Insurance Research Council (IRC), which found that Louisiana, Florida and Michigan are the least affordable states for car insurance. The report compared average auto insurance spending as a share of insured income, finding that Louisiana drivers spend 3.09% of their income on vehicle insurance.
The IRC also found that a number of car insurance costs for drivers vary by state, including:
Frequency of accidents — Poor road conditions, higher traffic density and higher speed limits can lead to more frequent accidents in some places.
The cost of claims — Depending on where you live, it may be more expensive to fix your car, see a doctor, or hire a lawyer, for example.
Litigation climate — Some states have different laws for settling insurance claims, while others have more stringent legal requirements for auto coverage.
Moving to a different city or state would actually help some drivers save money on car insurance, but it's not a practical solution. There are several other ways to lower your auto insurance premium, from changing your policy to taking defensive driving lessons. Another strategy is to shop around with multiple insurance companies to find the lowest possible rate for your situation. You can visit Credible to compare car insurance quotes for free without affecting your credit score.
THESE ARE THE 10 MOST STOLEN VEHICLES IN AMERICA, ACCORDING TO THE REPORT
How to lower your car insurance costs
Although drivers in certain areas of the United States are likely to have higher car insurance costs, there are always options to save money no matter where you live. The Insurance Information Institute (Triple-I) estimates that policyholders can save hundreds of dollars on their premiums with the following strategies:
Increase your deductible. A higher deductible may offer lower premiums, but it also means you'll have to pay more if you have to file a claim.
Bundle insurance policies. Buying auto and home insurance from the same insurance company can help you save up to 25% on your annual premiums.
Build your credit score. Drivers with good credit histories may see lower insurance rates, while those with poor credit history will see higher costs.
Look for policy discounts. Some insurers offer discounts for low mileage and discounts for safe drivers. You can also save money by taking a defensive driving course or a car driving course.
Do your homework. Rates vary from company to company, so it's important to compare quotes from at least three car insurance companies to find the lowest possible premium.
You can compare free quotes and learn more about auto insurance coverage by visiting Credible.
AVERAGE HOME INSURANCE RATES ARE RISING FASTER THAN INFLATION – AND THEY ARE NOT SLOWING DOWN
You have a financial question, but you don't know who to contact? Email the Credible Money Expert at moneyexpert@credible.com and your question might be answered by Credible in our Money Expert column.